Simply Evolutionary
Rega Has Been Improving This Great Turntable For Three Decades
By "Analogue Bob" Herman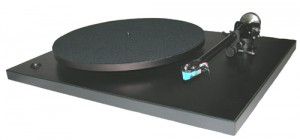 It's fair to call Rega Research a legend in the turntable category.
The English specialty company introduced its first unit in 1975, and followed it with the seminal P3 two years later. By 1980, it was known as the maker of Britain's best-bang-for-the-buck (pound actually) turntables. The firm was by then exporting to a dozen countries, and a waiting list for Regas had formed.
These days, Rega builds a range of specialty audio products, including some sensational CD players. The fact that it continues to focus exclusively on the two-channel world tells music lovers something very important about the company's attitude.
That attitude is good news for audiophiles, and so is the fact that Rega has continued to develop the model that justifiably led to its acclaim, the original Planar 3.
Hi-fi connoisseurs, to which so many prospective late '70s and 1980s buyers turned for advice, invariably uttered the same terse phrase when talking to friends and family members who had asked them to recommend the best value in turntables. "Buy a Rega Planar 3," they always said.
Most Recommended
Actually, it's safe to say that the Rega 3 has, for the past three decades, been the most recommended value-priced audiophile turntable. Period.
Fortunately the chaps at Rega haven't been lounging around at their locals, sipping pints and reading old P3 reviews aloud to one another between games of darts. Hey, they're audiophiles, and audiophiles just can't help contemplating ways to improve component performance.
Happily, the Rega design team has done more than contemplate. These guys have succeeded in sharpening the performance edge of every part the venerable P3 embodies.
Rega's stalwart is now called the P3-24 and is equipped with a tonearm built in-house. Its deceptive simplicity epitomizes the firm's high-performance/no-frills design philosophy, which was in this case so brilliantly applied that the unit provides performance unmatched by any other turntable in the three-figure price category. And many others that cost substantially more in the bargain.
Technicalities
Elegantly modern, the minimalist P3-24 features a lightweight but very rigid plinth formed of phenolic resin laminates. It lowers mass, and lower mass stores less low frequency energy. That translates to better detail and more sonic focus.
Add the new 24-volt low-vibration motor, which improves speed consistency and puts even more of the original detail into reproduced music.
The P3-24's high-quality, low-friction bearing and its glass platter remain unchanged. And so they should, since they, too, contribute enormously to speed consistency.
Only those of us who grew up in the analogue era know just how many turntables failed the speed consistency test, yet it has always been critical for anyone who wants Beethoven piano sonatas to sound as firm and solid as the great composer intended. The fiery Beethoven would never have tolerated the wavering that some turntables, including some of the newest, inject into his masterworks.
Better Armed
Rega has been building its own tonearms since the early 1980s, and they just keep getting better. For the P3-24, the firm has modified its noted RB300 arm.
The new version, the RB301, utilizes an improved vertical bearing housing for more rigid mounting and reduced stress. That means smoother operation, which in turn allows more accurate musical information to flow through the arm's upgraded cable. Rega has adopted a new, more rigid mounting platform as well.
There's one important upgrade you can make, and it will only add $59 to the price tag of your Rega. I highly recommend that new buyers and veteran Rega users alike replace the standard turntable belt with the firm's White Belt. It fits all Rega models and, though it was introduced in a limited edition, it's now on the company's list of ongoing offerings.
The White Belt is not, I repeat not, one more of those tweaks empowered by hope or mojo. It really does work because it's fabricated of undyed rubber to ultra-tight tolerances, thereby improving contact with both drive hub and pulley. The very obvious sonic results include improved clarity and focus, better bass reproduction, and — thanks to more accurate speed — music with more realistic pace, rhythm and timing.
You can delve more deeply into the P3-24's technical credentials if you like. Or you can ignore the technology, admire the turntable's modernist, less-is-more look, then throw on an album like Cat Stevens' Tea for the Tillerman — you might check out the 180-gram Island pressing of this title that's in my collection of reference LPs — and cue down the stylus. I guarantee the music will blow your mind.
Even if you know the album, it will be like hearing it for the first time. There's a real guitar between your speakers. There's a live human voice crying out for justice and equality. Oh, those glorious '70s!
Oh, the equally glorious analogue technology of the Rega P3-24, the turntable that will bring you closer to music on vinyl than any other in the three-figure price bracket.
"Analogue Bob" Herman is a longtime Lyric staff member who has dedicated himself to home music listening for the past quarter century. He's every bit as avid about his outdoor passion, fly fishing.
Click To Learn Why "Analogue Bob" Loves These Two Turntables
Learn Why The VPI Classic Is By Far The Best For its Price
Find Out Why The Time To Buy A Turntable Is Right Now