Vinyl Is Victorious
Even Steve Jobs Preferred Recordings Played On A Traditional Turntable
How many LPs have been languishing neglected on your shelves? 50? 100? More? Well, we think you should be enjoying them.
Even if you began listening to music in the digital age and have no LPs, there's never been a better time to start a vinyl collection.
Talk about bargains! These days, LPs are available for next to nothing at thrift shops, flea markets, church fairs and library sales. The albums stacked in such places frequently include many of the best ever recorded in just about every musical genre you can name.
And in many places, used record stores have become hallowed institutions.
The Reissue Business Is Booming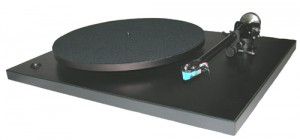 Reissues abound as well. Some of the music industry's greatest titles have been licensed by specialty record companies that start with the original masters and turn out high quality pressings, LPs with awesome sound quality.
In an era tightly tied to digital technology, the recent renaissance of analog LPs and high end turntables made to play them has amazed countless observers.
The popular media have suddenly discovered just how good music on vinyl can sound. "Satisfying," "absorbing," and "engaging" are some of the adjectives we've been seeing. Even young people whose music listening has previously been confined to no-fi digital downloads have begun to view vinyl as "cool."
Reconnect To Music
All of us at Lyric have long wondered why so many people turned off their turntables for good so soon after the Compact Disc came along. For as long as CDs have existed — and that's more than a quarter century now — we've continued to maintain that LPs and turntables are, at the very least, a recommended option for listeners. For hard core music fans, they've always been a necessity.
But even if you strayed from the analog fold, you can return. And if you've never been a member of the flock, by all means join us. Your life will be richer for it.
Turntables Are Better Than Ever
Today's turntables are better than ever, so if you don't currently own one, or if you think it's time to replace the unit you've owned forever and a day, you'd do well to lend an ear to our own "Analogue Bob" Herman. He's the longtime Lyric associate who has been savoring, selling and setting up turntables since the heyday of the analogue era, which of course explains his nickname.
Bob could make your quest for a new turntable as simple as one-two. When asked for his top picks, he immediately responds with a pair of very enthusiastic recommendations
Bob's favorites are from VPI, a U.S. specialty company, and Rega in England. Both firms have been following the same tracks for decades, and both have earned rock-solid reputations for their turntables.
Bob has written concise reviews of his favorites, the VPI 30th Anniversary Classic and Rega's P3-24, which many LP devotees feel is the best value in the turntable business. Click on the two links at the bottom of this page to read about them.
Lyric Gives You Free Turntable Setup
Once you have, you might want to take advantage of this free offer: Buy a turntable and a cartridge to go with it from Lyric and, provided it can be done at the store, "Analogue Bob" will personally set the unit up for you.
You couldn't have a better analogue music ensemble partner, because Bob has set up countless turntables over the years. In fact, he's probably done more Rega setups than any audio professional in the nation.
You can reach "Analogue Bob" most business days at Lyric's Manhattan store. Please feel free to call him at 212-439-1900 for an appointment.
Or just drop into either of our stores at your convenience. We're always happy to see people who are as interested in music on vinyl as we are.
Click To Learn Why "Analogue Bob" Loves These Two Turntables
Read About The Rega P3-24, An Under-$1,000 Stunner
Learn Why The VPI Classic Is By Far The Best For its Price