Your McIntosh Resource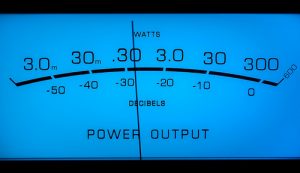 At Lyric, Every McIntosh Component Comes With Our Unrivaled Expertise
The fact that we're America's oldest high end audio retailer makes us a valuable asset for McIntosh component purchasers. So check out the gear below, then stop in for a chat with one of our veteran audio specialists. You'll take comfort in knowing that all equipment you buy from us includes the Lyric Advantage. Read more about the Lyric Advantage here.
Click on any image below to expand it. Click these links to learn about McIntosh Benefits and The McIntosh Heritage.
Here Are 10 Of The Firm's Newest Products
MA252 Integrated Amplifier (shown below on left): The MA252, the first hybrid integrated amp from McIntosh, combines the best of two worlds: tube and solid state circuitry. It sounds just fabulous and, because it includes a preamplifier stage, is also exceptionally practical. Retro design cues immediately call to mind the legendary McIntosh MC275 tube amp, making this unit an attention grabber even when your system isn't playing. The preamp stage employs two 12AX7a and two 12AT7 vacuum tubes surrounded by sleekly styled protective cages, and the output stage is a direct coupled solid state amp conservatively rated at 100 watts per channel into 8 ohm speakers or 160 into 4 ohms. The all-analog design gives you two unbalanced inputs, one balanced input, and a moving magnet phono input, all four of which are nameable for user-friendly system control. Bass and treble tone controls are included, and so is a full-range subwoofer output. Other built-in McIntosh technologies include Power Guard, which prevents clipping and is used for the first time ever in a McIntosh tube product.
MA5300 Integrated Amplifier (shown above on right): In terms of both power output and physical size, this value-packed unit is the most compact solid state integrated amp in the McIntosh line, making it the ideal choice for a smaller listening area or a serious music lover starting to assemble a major league home audio system. The MA5300 is a direct coupled amp that delivers 100 watts per channel into 8 ohm speakers or 160 into 4 ohm loads. New dual scale blue watt meters, with the traditional McIntosh look recognizable by audiophiles worldwide, display accurate power output readings for both 4 and 8 ohm impedances. There are inputs aplenty, both analog and digital, balanced and unbalanced, coaxial and optical, as well as a USB input and a proprietary MCT input for use with the MCT series of McIntosh SACD/CD transports. All inputs can named by the user to simplify system control. Bass and treble tone controls are employed as well, along with a cornucopia of time tested McIntosh technologies.
MHA50 Portable Decoding Amplifier (shown below on left): Good headphones are only a first step toward revealing the sonic potential of digital music files on portable devices. This powerful little amplifier/decoder is step two — without it, no audiophile headphone can possibly perform at its best. The MHA50 is light in weight and housed in a beveled case that fits comfortably in your hand or pocket. Its glass front panel has a touch sensitive volume control knob, and it's built primarily of extruded aluminum, which is both durable and acts as a shield against external interference. Two gain settings make it compatible with all headphone types. The MHA50 includes cable-ready inputs for Apple iOS and Android OTG1 devices plus Mac and Windows computers, and it can also connect wirelessly via Bluetooth 4.1 with aptX for the best possible Bluetooth sound. Its sophisticated 32-bit digital-to-analog converter decodes music from just about any digital source, considerably improving the resultant sound. A rechargeable battery provides up to six hours of playback when a source device is connected via Bluetooth; when linked by cable, playing time can be longer still. Supplied accessories include a genuine leather carrying case, cables for various Apple and Android devices as well as Mac and Windows computers, and a wall mount charger.
MAC7200 Receiver (shown above on right): The MAC7200 is distinguished by many benefits, including the DA1 Digital Audio Module. The DA1 has a powerful 8-channel, 32-bit digital-to-analog converter that plays the highest resolution music formats, including DSD and DXD; when new digital audio technologies appear, this module can be replaced to keep the 7200 current. The receiver's amplifier section delivers 200 watts to each stereo channel, and its tuner stage is descended from McIntosh tuners going all the way back to the 1950s — including the groundbreaking MR78 FM from 1972. All who hear it will agree that music broadcasts are conveyed with unparalleled clarity and realism, free of noise and distortion. The 7200 even has an advanced signal monitor, which displays multipath and noise levels of incoming RF signals, thereby allowing precise antenna placement. There are 20 presets for each radio band, and 14 inputs, including moving coil and moving magnet phono inputs for turntables. There is, of course, a USB input, and a proprietary MCT input makes the unit compatible with the McIntosh MCT450 SACD/CD Transport.
MCD350 SACD/CD Player (shown below on left): The heart of the MCD350 is its highly sophisticated balanced two-channel 32-bit/192kHz digital-to-analog converter, which delivers superb sound from both Red Book spec CDs and Super Audio CDs. It provides both balanced and unbalanced fixed analog stereo outputs while coaxial and optical outputs are provided for those who want to send the digital audio signal to an external DAC, preamplifier or home theater processor. Thanks to its 2x read speed, all discs placed in the unit's rigid aluminum die-cast tray are read at higher speeds, allowing their data to be stored in a buffer memory for better error correction and tracking. The MCD350's twin laser optical pickup has a single objective lens with two laser units, each employing different wavelengths optimized for SACD and CD playback. A black glass front panel with illuminated logo, and the housing's aluminum end caps, endow it with the classic visual appeal McIntosh has long been known for.
MXA80 Integrated Audio System (shown above on right): Once again, McIntosh ups the ante for compact audio systems that fit tidily into offices, bedrooms and other small spaces. This next-generation version of the acclaimed MXA70 compact stereo system has the same small footprint as its predecessor while adding a new digital-to-analog converter compatible with high res formats that include DSD and DXD. The MXA80 combines a 50-watt stereo amplifier with meticulously designed two-way desktop speakers that sound much larger than their size. You can connect a variety of source units through six inputs, which naturally include USB. An onboard dedicated headphone amp will easily coax optimal performance from just about any headphone you use while the McIntosh Headphone Crossfeed Director endows your 'phones with imaging akin to that of fine loudspeakers. The firm's tried and true Power Guard circuit prevents clipping that could harm your speakers or headphones, and a stepped Bass Boost Control will let you adjust the degree of low frequency presence to your taste.
MP1100 Vacuum Tube Phono Preamplifier (shown below on left): The feature-packed MP1100 will thrill listeners serious about vinyl. It gives music lovers who own multiple turntables or tonearms three sets of RCA phono inputs, along with a pair each of balanced and unbalanced high level inputs and unbalanced stereo outputs. Four 12AX7A vacuum tubes, two per channel in a fully-balanced configuration, make the MP1100 the very first fully-balanced McIntosh tube phono stage. Rumble- and scratch filters are incorporated to reduce noise on problematic LPs.
D1100 Digital Preamplifier (shown above on right): This reference-level stereo preamp/digital-to-analog converter will give you unsurpassed reproduction of digital music sources. Its 8-channel, 32-bit DAC, used in quad balanced mode with half of it dedicated to the left audio channel and half to the right, is the company's most advanced digital-to-analog converter ever, capable of decoding both DXD and DSD. In order to accommodate an abundance of linked components, the D100 provides users with nine inputs.
C2600 Preamplifier (shown below on left): The C2300 and C2500 rank among the most lauded McIntosh tube preamps made, and they're not easy acts to follow. Nevertheless, the state-of-the-art C2600, which now succeeds them, is just the unit for the job. Along with the cornucopia of features its predecessors contained, it incorporates an advanced digital audio section as well as noticeably improved tube circuitry. It also boasts a 32-bit/384kHz DAC that supports DXD program material as well as DSD.
MHA150 Headphone Amplifier (shown above on right): Endowed with McIntosh's new-generation digital-to-analog converter, the MHA150 supports both DXD and DSD source material. Like its predecessor model, the MHA100, this extraordinary headphone amp employs key McIntosh technologies, including Autoformer, long a highlight of the firm's large mono and stereo amplifiers — here it's adapted for three headphone impedance ranges to make just about every headphone you'll use with it perform optimally. The MHA150 can drive a pair of desktop or small bookshelf speakers via its 50-watt stereo speaker outputs.
Don't Miss These Tried And True Components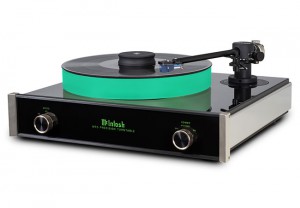 MT5 Turntable: The MT5 is so impressive that Rolling Stone magazine called it "the turntable of the gods." It's a complete record playing system, designed so that motor assembly, tonearm and cartridge work together to achieve top grade performance. The illuminated, magnetically suspended platter instantly telegraphs excellence while the housing's appearance provides the same classic look as related McIntosh gear. The MT5 even features a high output moving coil cartridge that's compatible with moving magnet inputs on linked components, and the guiding hand of McIntosh extends as far as setup, which is done at the factory to make certain such critical measurements as tracking force, anti-skate force, cartridge overhang, and arm height are just right. Naturally, you get a clear, form-fitting dust cover to protect the MT5's moving parts and help preserve your prized vinyl collection. Compatible with any McIntosh stereo preamp.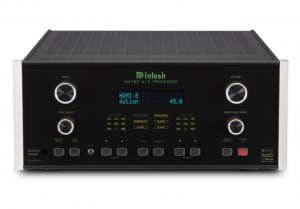 MX160 A/V Processor: This A/V processor has it all. The many new technologies it supports include object-based 3D audio formats such as Dolby Atmos and Auro-3D, and it's upgradable to DTS:X. The MX160 is also compatible with Dolby TrueHD, DTS-HD Master Audio, and other earlier formats, so you get McIntosh-quality surround sound from your older DVD and Blu-ray movies. RoomPerfect room correction will adjust the audio to match the acoustics of your home-theater space. As for video, the MX160 fully supports 4K Ultra HD native sources and can upconvert lower resolutions to 4K Ultra HD. Its eight HDMI inputs and four outputs provide plenty of connection options for existing and future HD and 4K Ultra HD sources. 3D video passthrough is built in as is an HDBaseT output for degradation-free, uncompressed digital video and audio regardless of the cable length between the MX160 and your projector or TV. Also included: balanced outputs for 11.1 (AKA 7.1.4) audio channels plus four auxiliary channels for speaker bi-amping or driving additional subwoofers. For digital music lovers, the MX160 features four optical, three coaxial and a USB input that accepts up to 24-bit/192kHz signals, plus an XLR connector. For analog audio, there are two sets of stereo balanced inputs, four sets of stereo unbalanced inputs, a dedicated phono input, and a set of 7.1 multichannel unbalanced inputs. All analog and digital connections can be custom-named and matched in volume level while bass and treble controls offer further fine tuning. You can mate the MX160 with a variety of McIntosh amplifiers.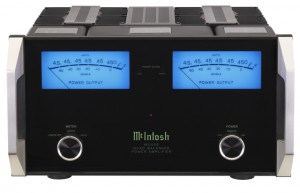 MC452 Power Amp: McIntosh amplifiers have been thrilling audiophiles since 1949, when the very first model astonished the audio community by combining ample power with flat frequency response and remarkably low distortion. The MC452 is the most powerful stereo amplifier in the company's current lineup, conservatively rated at 450 watts per channel. It features Quad Balanced circuitry that cancels nearly all distortion, and it stands apart visually thanks to larger versions of McIntosh's signature power meter and aluminum handles. Among other enhancements, there's a chassis updated for cooler operation, which is further assured by power transistors that employ ThermalTrak, a new technology that provides instantaneous and highly accurate transistor temperature monitoring. You also get twin-balanced input and output flexibility, along with unique binding posts that provide an optimal connection regardless of speaker cable type or termination.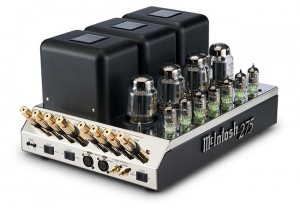 MC275 Classic Tube Amplifier: Irresistibly lush sound goes a long way toward explaining why the MC275 is not only the most revered tube amplifier in the McIntosh component repertory, but very possibly the best known tube amp in high fidelity history. This truly legendary unit, with its gleaming chrome chassis and imposing KT88 power tubes, harks back to 1961, when the original version caused a tidal wave of enthusiasm in the audiophile world. Like its coveted ancestor, the current, sixth generation MC275 is a stereo amp rated at 75 watts per channel (275 stands for 2 channels x 75 watts), but its real-world power capability appreciably exceeds that conservative rating. This iteration of the MC275 includes important 21st century features and performance enhancements. Along with the widest bandwidth output transformer that McIntosh produces, you get especially taut bass control and thermally quiet circuitry. Top-quality balanced and unbalanced input connectors enhance signal transfer from your preamp while patented McIntosh gold plated binding posts assure the best connection for all speaker cables. The MC275's seven small tubes are LED-illuminated to show the amplifier's functional status — when you power it up, they sequentially glow amber for a few seconds then turn green to show that your system is ready. Should an output tube fail, a rare occurrence, the small tubes in front of it will glow red.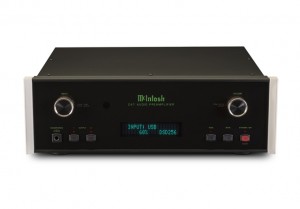 C47 Preamplifier: The C47 stereo preamp, with 12 inputs, can handle a wide variety of music sources, including many of the latest high resolution digital file formats, DSD among them. For analog audio, it includes two balanced and three unbalanced fully-assignable inputs, plus moving coil and moving magnet phono inputs. The unit's array of digital inputs comprises two optical, one coaxial, and one USB. Its optical and coax inputs will decode digital music at up to 24-bit/192kHz for high-res playback, and it can also decode and play hi-fi DSD files via its USB input, which accepts signals up to 32-bit/384kHz and supports DSD64, DSD128, and DSD256 along with DXD 352.8kHz and DXD 384kHz. When playing SACDs, you can mate the C47 with a McIntosh MCT450 SACD/CD Transport via the MCT input, thus creating a secure custom DSD connection. All C47 inputs are available at all times, even if specific ones are assigned to certain devices, allowing you to configure your system as you wish. Bass and treble tone controls allow audio fine tuning while a Headphone Crossfeed Director provides three-dimensional headphone listening. Home Theater Pass Through permits seamless integration with a multi-channel home theater system. You can connect the C47 to numerous amplifiers and related components.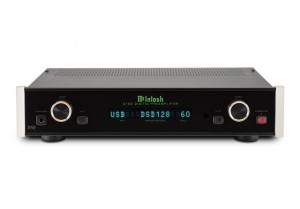 D150 Digital Preamplifier: For a complete digital stereo system, you need only connect the D150 to an amplifier, a pair of speakers, and a digital source. Or use it as a headphone amplifier by linking your digital sources and a set of 'phones. This impressive preamp supports many of the newest digital audio formats while its USB input accepts up to 32-bit/384kHz signals and supports DSD64, DSD128, DXD 352.8kHz, and DXD 384kHz. Two coaxial and two optical inputs handle signals up to 24-bit/192kHz. Balanced and unbalanced connections are available for both variable- and fixed-volume audio outputs, providing flexibility while setting up and connecting associated system components. A superb built-in DAC section features an 8-channel, 32-bit, 500kHz D/A converter with wide dynamic range and extremely low distortion; it reproduces music with precision and elegance at any listening level. A 1/8-inch mini jack is provided for control data from the data output jack of a McIntosh preamp or A/V Control Center. Though just under 4 inches high, the D150 shares the classic façade, knobs, and handcrafted black-glass front panel that visually inform all who know quality audio that it's made by McIntosh in the USA.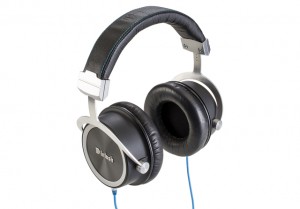 MHP1000 Headphones: Don't be surprised when the MPH1000 reveals facets of your favorite musical selections that were previously veiled by your speakers and by other headphones. Its smooth, full bodied, non-fatiguing sound flows from drivers conceived in-house by the McIntosh design team, and its performance is enhanced by closed earcups that diminish environmental noise. For maximum comfort, McIntosh engineers opted for a lightweight design that applies minimal pressure to the ears, and earcup pads and headband alike are constructed of soft premium leather for an opulent feel. The MHP1000 comes with two detachable cables, one that's 1 meter long and terminates in a 3.5 mm stereo connector, and a second that's 3 meters long and has a 6.3 mm stereo connector. Both connectors were custom-designed by McIntosh, and both feature gold plating as well as shielded wiring for best sound. Owners of related McIntosh gear will appreciate the fact that the MHP1000 has been engineered to perform optimally with any of the firm's current or legacy headphone amplifiers.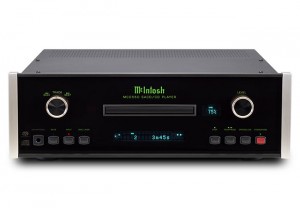 MCD550 CD/SACD Player: When you audition the MCD550 with a familiar CD, you're bound to be surprised by musical nuances you hadn't previously heard. In part, this can be credited to the unit's 8-channel, 32-bit, 192kHz PCM/DSD DAC, a digital-to-analog converter with wide dynamic range and exceptionally low distortion. The MCD550 employs the converter in quad balanced mode, utilizing four DAC channels for each audio channel, to reproduce music at all levels with precision and elegance. As well as decoding PCM signals from CDs and its own digital inputs, it can handle DSD signals from SACDs. To insure superior error correction and tracking, the unit reads your discs at high speed and stores their data in a buffer memory. This outstanding player also provides both fixed and variable balanced and unbalanced outputs for maximum flexibility when connected to your system — the variable outputs allow direct connection to an amplifier without a separate preamp. You also get three digital inputs: coaxial; optical; and a USB input that allows you to stream stored digital music files with resolution up to 24bits/192kHz. Coaxial and optical outputs let you direct audio signals to a preamplifier or home theater processor. The 550 also features McIntosh's High Drive headphone amp, which is optimized for just about every headphone you'll ever own. A classic black glass faceplate and a rear panel with gold plated, corrosion resistant connectors complement the unit's internal merits.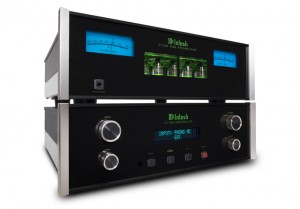 C1100 Dual-Chassis Vacuum Tube Preamplifier & Controller: The C1100 borders on the absolute. So does its silence, thanks to high-level inputs with a noise level lower than that of any other preamplifier McIntosh has ever built. The C1100's two-chassis design completely separates the preamp's control and power sections from its audio section, achieving total isolation of the principal preamplifier functions (control and sound) — the result is astoundingly pure music reproduction. For ultimate stereo separation and sonic purity, the C1100's Controller and its matching Vacuum Tube Preamplifier isolate left and right channels from one another, both electrically and mechanically, and the units are connected via specially designed, high performance umbilical cables that are shielded from outside noise. Once connected, the two units act as one and are easily operated via remote control or with front panel controls. All power control, data ports and external control connections are located in the Controller section, which includes a dual microprocessor to enhance its robust nature. The Preamp section houses all audio connections and circuitry, and it gives you a total of 12 analog inputs, six balanced and four unbalanced, plus adjustable-loading moving magnet and moving coil phono inputs. Two sets of balanced outputs and two sets of unbalanced connections provide flexibility. Twelve vacuum tubes (six each of 12AX7a and 12AT7) power the preamp. For personal listening, the headphone jack has higher output than any other McIntosh preamplifier, while a Headphone Crossfeed Director (HXD) gives music heard through headphones exceptional dimensionality. Home Theater Pass Through allows for seamless integration with an existing multi-channel theater system. As is only fitting, the C1100 makes an emphatic visual statement with McIntosh black glass front panels on both enclosures, fabled blue meters, signature knobs, and illuminated logos, all of which complement the preamp's stainless steel chassis and custom-machined brushed aluminum end caps.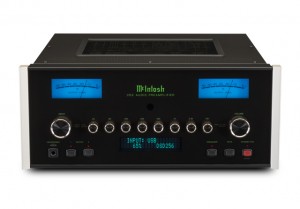 C52 Preamplifier: The two-channel C52 is the most advanced, single-chassis solid state preamplifier McIntosh has ever made, packed with features and compatible with virtually any high end analog components and digital music sources you may own. For connecting analog devices, it includes three balanced and four unbalanced fully-assignable inputs, plus moving coil and moving magnet phono inputs. For digital, it includes three optical and two coaxial inputs, plus one for USB. The optical and coaxial inputs will decode digital files up to 24-bit/192kHz for high resolution audio playback. The C52 is also capable of decoding and playing DSD files, and the USB input accepts PCM signals up to 32-bit/384kHz while supporting DSD64, DSD128 and DSD256 plus DXD 352.8kHz and DXD 384kHz. The C52 also features a 24-bit/192kHz, DSD digital-to-analog-converter. All inputs are available at all times, even if you assign certain inputs to certain devices, so you have the freedom to configure your system your way. Moreover, the unit's updated outputs are designed so that highs and/or lows are not inadvertently turned off when bi-amping or tri-amping. An 8-band analog equalizer provides all the fine-tuning capability you'll ever want while the C52's Headphone Crossfeed Director adds three-dimensionality to all music played through 'phones. The unit's passthrough capability gives you seamless integration when you use it in a multi-channel home theater. Classic McIntosh enclosure features, which include signature blue meters, match perfectly with those of sibling components from the eminent firm.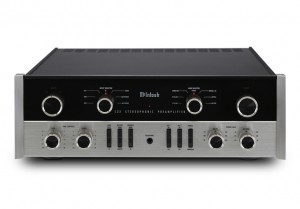 C22 2-Channel Tube Preamp: The retro design of the C22 has in no way kept McIntosh from making this stylish tube preamp the equal of any component in its current lineup. Electromagnetic input switching provides reliable, noiseless, distortion-free operation (low distortion levels of all types are less than 0.08%) so that every musical sound you hear is as accurate as it is transparent. The C22 has 10 inputs, including two balanced and six unbalanced. Its moving coil and moving magnet phono input sections feature selectable resistance and capacitive loading; that means every phono cartridge and turntable can be perfectly matched for optimum sonics. Along with a set of balanced connections and three sets of unbalanced ones, you get bass and treble tone controls that you can bypass if you wish. Power control outputs let you turn a complete McIntosh system on or off from the unit's front panel or via remote control. Notwithstanding its retro look, the C22 has the McIntosh design cues everyone recognizes — a partial black glass front panel, signature knobs, and sturdy brushed aluminum end caps — so that it matches sibling components from the firm.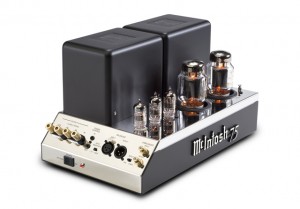 MC75 Mono Tube Amplifier: Let's say you want an outstanding mono tube amp without opting for — or paying for — more than 75 watts. Well, the MC75 is just the ticket. (McIntosh's power rating, by the way, is very conservative.) The unit combines classic design with state-of-the-art performance, and it provides all the features today's music enthusiasts want and enjoy. Because the MC75 powers just a single channel, pairing two of them in a system gives you ultimate stereo separation. Moreover, the firm's patented Unity Coupled Circuit keeps distortion low while extending frequency response and lengthening the life span of the unit's tubes. There's an oversized power transformer that allows a single pair of KT88 output tubes to deliver unusually high power and dynamic response, and Sentry Monitor tube protection as well. Balanced and unbalanced inputs, plus power control, suit the MC75 for use with all contemporary McIntosh preamps and processors.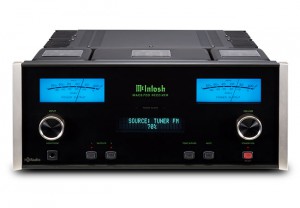 MAC6700 FM/AM/HD Receiver: Company founder Frank McIntosh was a radio engineer, so it seems only fitting that, after 20 years without a receiver, the firm's line now includes the world's finest. As well as providing superior FM reception when tuned to traditional stations, the unit includes HD radio technology for sound approaching CD quality from stations that broadcast hybrid digital signals. This superlative receiver will deliver performance matching that of McIntosh standalone tuners while allowing you to preset up to 20 stations on each radio band. It even includes a remote AM antenna. A 200 watt-per-channel stereo amplifier section gives the MAC6700 all the muscle you'll ever need — it's capable of driving just about any speaker. The McIntosh Autoformer means you get all 200 watts regardless of your speakers' impedance, and the firm's famed Power Guard circuit, which prevents potentially dangerous clipping, will keep those speakers safe from harm. The MAC6700's preamp section features 11 inputs, including three digital inputs that feed a built-in DAC capable of high resolution decoding up to 32 bits/192kHz. Two dedicated phono sections are provided, one for turntables with moving magnet cartridges, and the other for moving coil, while Home Theater Pass Through lets you link the MAC6700 with a multi-channel A/V system. A McIntosh High Drive headphone amplifier with increased gain and output power is built in and optimized for virtually all headphone types.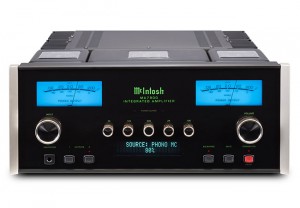 MA7900 Integrated Amplifier: The MA7900 integrated amp packs many essentials into a single enclosure: a fine sounding preamp section; a powerful amplifier section conservatively rated at 200 watts per channel; an inboard D/A converter for handling digital music files; and two phono sections. Better yet, each of these is McIntosh-grade, so you know they'll yield the best possible performance with program sources ranging from vinyl to digital music files. The MA7900 gives you a grand total of 12 inputs, including three that are dedicated to digital and allow high resolution decoding up to 32 bits/92kHz. There's no need to settle for mere bass/treble adjustment, thanks to a discrete, five-band tone control, assignable by input and with manual analog equalization. The MA7900's phono sections give you the option of using moving magnet and/or moving coil cartridges, and you can adjust them to match your turntable/cartridge combination(s) precisely. This exemplary component also includes two McIntosh features that help explain why the company's amps have been heralded since 1949 — Autoformer, which assures your speakers will be fed full power regardless of their impedance, and Power Guard, which prevents clipping that distorts sound and can damage speakers. A built-in McIntosh High Drive headphone amplifier, optimized for virtually all headphone types, means maximum gain and power output during personal listening sessions, and Home Theater Pass Through permits seamless integration with existing multi-channel theaters.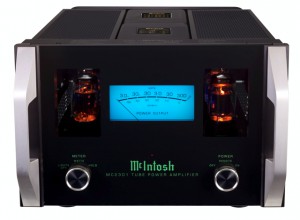 MC2301 Tube Monoblock Power Amplifier: The MC2301 is an audiophile's dream come true. For one thing, it incorporates a contemporary version of Frank McIntosh's legendary Unity Coupled circuit, which nearly seven decades ago lifted the first McIntosh amp head and shoulders above all others on the market. Thanks to refinement after refinement, Unity Coupling continues to endow the firm's amplifiers with benchmark performance — in power bandwidth, flat frequency response, and low distortion alike. The MC2301 also employs Quad-Differential circuitry, a McIntosh innovation never before combined with tubes, to cancel nearly all induced noise and circuit-borne non-linearities for astoundingly low noise levels. Whether handling huge orchestral and choral forces or a rock band's full-on assault, the MC2301 effortlessly delivers the most lifelike, most dynamic tube amplifier performance you've yet heard.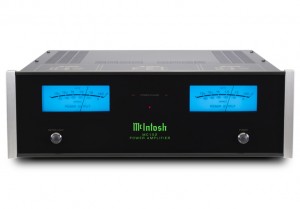 MC152 Amplifier: Yes, you can save money and still own a vaunted amp from the current McIntosh lineup. The MC152 is the firm's least expensive stereo amplifier, yet everything about it is undisputedly McIntosh. Even with its space-saving, six-inch-high chassis, the unit provides standard-setting performance, which makes the MC152 the perfect choice for music systems that don't require higher power, or for pairing with home-theater surround speakers. This fine amp delivers 150 watts of power into two channels at 2, 4 or 8 ohms (the power rating is conservative, as is always the case with McIntosh amplifiers), and both balanced and unbalanced inputs are built in for connecting your preamp. McIntosh output Autoformers mean every speaker receives full power regardless of impedance while the firm's unique Power Guard circuit prevents clipping that could damage speakers. Patented binding posts provide secure cable connections for optimum speaker performance. As for appearance, two large blue watt meters, a gleaming black glass front panel, and silver end caps visually telegraph the McIntosh message: high performance for a lifetime.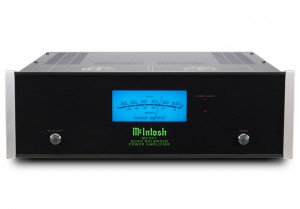 MC301 Monoblock Power Amplifier: McIntosh's MC301 monoblocks are ideal for those who want monophonic amps but don't need all the muscle of the firm's larger units. (Because each speaker has its own dedicated amplifier, mono amps provide ultimate channel separation.) Each MC301 delivers 300 watts of conservatively-rated power to a single channel at 2, 4 or 8 ohms. Both balanced and unbalanced inputs are included for preamp connection, along with balanced and unbalanced outputs that make bi-amping speakers easy. This is a small-format McIntosh amplifier, with a space-saving chassis just 6" tall, yet it's packed with the company's technological advancements. They include the Autoformer, which insures that every speaker receives full power regardless of its impedance. Quad Balanced design cancels any noise inside the Autoformer, giving you the highest power possible with the lowest distortion. Power Guard circuitry prevents harsh-sounding and potentially damaging clipping while patented binding posts securely connect your speaker cables to the amp's rear panel. Classic McIntosh appearance features are, of course, part of the package, including the blue watt meter that's as closely associated with sonic excellence as the three-pointed Mercedes Benz star is with automotive prowess.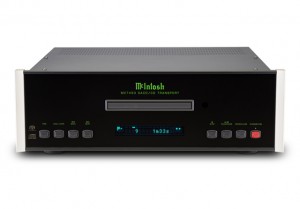 MCT450 CD/SACD Transport: A dedicated transport is a must for listeners who want to extract every scintilla of music their discs contain, and the MCT450 ranks with the finest. It can be connected to any McIntosh product with digital inputs, including select home theater processors, integrated amplifiers, and preamplifiers. Its digital balanced, coaxial, optical and DIN outputs provide ample flexibility for connection to the components in just about any fine music system. The MCT450 is compatible with all standard disc varieties, including SACD, CD, CD-R, and CD-RW (MP3 and WMA). Its twin laser pickup assures optimal reading of these discs while its 2x read-speed helps extract data embedded in damaged CDs and CD-R/RWs. To preserve the integrity of your discs, all are carefully handled by the MCT450's tray, which is die cast of premium aluminum. Power control and data ports mean the unit can be operated via other connected McIntosh components. As for its looks, the MCT450 housing is classic McIntosh, from its polished stainless steel chassis to its black glass front panel and brushed aluminum end caps.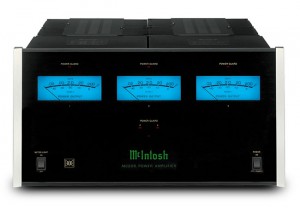 MC205 5-Channel Amplifier: This McIntosh powerhouse can deliver more than a thousand watts in total, but there's a lot more to it than muscle. Consider its versatility: you can employ it as the sole amp in a 5.1-channel home theater, or as a dual zone amplifier. In the latter mode, it will direct three channels of power to a theater in one location (thereby adapting an existing two-channel amp for theater use) while powering a superb-sounding stereo music system in another. A further benefit is the constellation of technologies that McIntosh employs in its Dynamic Power Manager, which insures optimum performance with both 8 and 4 ohm loudspeakers — every last one of the unit's 200 watts per channel will be fed to them. Moreover, you can listen to the MC205 for hours without being overcome by listening fatigue, an annoying phenomenon that many amplifiers cause. The unit keeps total harmonic distortion below 0.005% across the 20-20,000 Hz audio band, even at full power, and it suppresses noise. Formidable build quality also helps this brawny amplifier perform noiselessly, since it eliminates the need for the cooling fans that mask musical and cinema-sound clarity in so many other amps.
Learn More About Hi-Fi's Oldest Audiophile Brand By Clicking These Links
Important McIntosh Benefits   The Rich McIntosh Heritage