Here they are: The finest personal listening products available. Great sounding headphones from only $79, and dedicated headphone amps to enhance their performance. You'll even find a short list of Staff Picks, our sales consultants' favorite headphone models. (All starred photos are Staff Picks.)
We've also provided background details on six premier headphone manufacturers, and a series of FAQs that provide important headphone facts. You're invited to peruse this page then visit either of our stores, where you can try on units for comfort and savor their sound in dedicated headphone listening areas. Our experts look forward to helping you in person.
Click the links below to navigate this page quickly, or simply scroll.
HEADPHONE BRANDS
Audeze   Bowers & Wilkins   Focal   Grado   Sennheiser   Master & Dynamic
STAFF HEADPHONE PICKS
Grado SR-125e $150   Master & Dynamic MH40 $399
Bowers & Wilkins P5 Wireless $399   Audeze EL-8 $699   Audeze LCD-4 $3,995
HEADPHONE AMPLIFIERS
Audeze   McIntosh   MOON by Simaudio   NAD
ANSWERS
Frequently Asked Questions
Audeze Headphones: From
 $449
In lieu of traditional cones, Audeze planar magnetic headphones employ ultra-lightweight, thin-film diaphragms with printed circuits across their surfaces. When audio signals energize these circuits, electromagnetic force moves the diaphragms, which provide truly magnificent sound. First-time users will be startled by the rapid response time, and by sonic spaciousness approaching that of fine speakers. The frequency band is wide, distortion is low and, thanks to fewer moving parts and efficient heat dissipation, Audeze headphone owners can expect their units to continue delivering spectacular performance over a very long lifetime. Audeze models span a broad price range, starting with the SINE, which comes with a standard headphone cable for $449. For $499, SINE purchasers get both a standard cable and a unique Lightning cable for adaptor-free connection to specific iPhone, iPad and iPod Touch models. The Audeze Lightning cable features the firm's own inline DSP-equipped Cipher DAC, a digital-to-analog converter that replaces and outperforms the decoders built into Apple devices.
The Audeze EL-8 and LCD-4 are both Lyric Staff Picks. The sturdily-built $699 EL-8 has the best sound we've heard in the under-$1,000 price category. The $3,995 LCD-4, which uses muscular magnet arrays that nearly double driving power, produces mind-boggling detail, focus and natural sound quality that has led some audio writers to call it the world's best headphone. Photos appear below.
Bowers & Wilkins Headphones: From $199
Bowers & Wilkins is either the number one or number two high end speaker brand in most of the many nations where it's sold, and research has revealed that an overwhelming 98% of owners were satisfied with their purchases. B&W ranks high on the list of recording-studio speakers — they've long been fixtures at London's Abbey Road studios, where groups ranging from The Beatles to U2 have used them while making albums — and they're also employed in surround-sound configuration at the famed Skywalker Sound studios in California, where memorable cinema sound tracks are created. B&W was the first company to use computers for loudspeaker design and analysis, and its vaunted technology enhances its headphones. Two models we especially like are the P5 Wireless and the P7. The P7 is the company's top headphone model, and it surrounds the ear to eliminate ambient noise while delivering natural, detailed sound.
The $399 Bowers & Wilkins P5Wireless (shown below in the starred photo) is a Staff Pick. It combines the acclaimed performance of the wired P5 with a 17-hour battery and aptX circuitry. AptX permits high resolution audio files to pass through a virtual Bluetooth pipeline with no wired connection and no sonic sacrifice.
Focal Headphones: From $249
Because the twin hearts of a headphone are its drivers, it's no surprise that Focal headphones are such brilliant performers. Some three and a half decades ago, Focal was founded by a French engineer who has developed drive units for numerous speakers with a variety of prestigious brand names. Once his drivers had made Focal one of the high end speaker industry's most important OEM suppliers, he extended his talent to a line of Focal-branded speakers, generations of which have since garnered the admiration of audiophiles in France and abroad. Headphones were a logical next step, and Lyric is pleased to offer the Focal Spirit Classic along with its sibling model, the Spirit Professional. Both are circumaural, closed back designs, but the $399 Spirit Classic is intended for at-home listening in relatively quiet environments while the $349 Spirit Professional is a recording-studio-quality model that more thoroughly isolates users from background distractions.
Grado Headphones: From $79
The Grado name has appeared on generations of great hi-fi phono cartridges as well as on headphones. Founder Joseph Grado was one of a core group of hi-fi pioneers and a gifted amateur opera singer whose enduring love of music always infused his products. Grado Labs has been family-owned since the 1950s, and it has always been located in the New York City Borough of Brooklyn. Its newest headphones retain traditional styling but differ from predecessor models in every other respect. When current units were being revised for improved dynamics and fidelity, Grado designers focused on details others would have overlooked. They went so far as to change the specified glue, which increased strength and lowered mass, and the method for curing the select mahogany that Grado headphones employ, a measure that further reduces sonic coloration. Grado headphones are both true classics and truly contemporary.
We consider the Grado SR-125e, at just $150, the industry's best value-priced headphone and have named it a Lyric Staff Pick. (See it below in the starred photo.)
Master & Dynamic Headphones: From $399
Master & Dynamic may never have been founded had its CEO not built a music studio for his teenage children. Combining the knowledge gleaned from that experience with a passion for exceptional industrial design, he created an unusually fine line of introductory products. Their sonic qualities are sensational, they were styled with the help of a Scandinavian designer, and they utilize materials that are both luxurious and durable — premium cowhide, soft lambskin, forged aluminum, and stainless steel. Master & Dynamic headphones are built for the long haul, with construction that harks back to the craft tradition and component parts designed for easy replacement. Some hi-fi companies can be criticized for ignoring the fact that audio components are seen as well as heard, but Master & Dynamic is not among them. The firm's headphones, like handsomely styled wrist watches, can be worn with pride. All this, along with the MH40's sound, which is highly detailed and bolstered by potent, unbloated bass, helps explain why we're so enamored of a headphone from a relatively new manufacturer.
The Master & Dynamic MH40, an over-the-ear unit, and a happy combination of sound, fashion and fit, is a Lyric Staff Pick. It's available in tempting finishes for $399. The photos below (starred, as are other Staff Pick images on this page) show it in blue and in tan.
Sennheiser Headphones: From $329
Sennheiser is a distinguished German audio company that was founded in 1945 by Dr. Fritz Sennheiser, who ran it for decades before passing the torch to his son. Still family-run, the corporation now employs some 2,100 people in more than 90 countries. While Sennheiser produces a broad range of audio-related items, ranging from microphones to aviation headsets and audiology products for the hearing-impaired, it continues to push the audiophile headphone envelope. Not only has it consistently produced some of the world's finest wired headphones, but it's a shining star in the wireless headphone firmament. Sennheiser's wireless models employ radio frequency (RF) technology to extend wireless range and provide sonic quality that's superior to that of other wireless technologies. They work in concert with transmitters that are connected to system source components, and they employ digital modulation on a 2.4-2.48 GHz carrier frequency. The line-of-sight signals can travel over 300 feet from the transmitters, which also serve as a chargers for the wireless headphone batteries and make convenient headphone stands.
Audeze Headphone Amps: From $699
The Deckard's class A amp produces clean, open, detailed sound while its precision DAC accommodates 16 to 32 bit depths and sampling rates from 44.1 kHz to 384 kHz. You can connect the unit to both analog and digital music sources and choose between them with a convenient front-panel switch. There's also a front panel volume control. Inboard line level preamplifier circuitry permits the Deckard to serve as a preamp, letting you create a simple, high fidelity stereo system without adding yet another box. The sound is genuinely exciting — dynamic, with gorgeously-rendered tonal colors — and the impressive enclosure is by DesignWorks, a unit of the automobile manufacturer, BMW. A second Audeze headphone amp is called the King, for Bascom King, an amplifier designer whose name is hallowed in audiophile circles. When, at his design lab, he demonstrated a prototype of it for visitors from Audeze, they were bowled over and immediately decided to produce it. A key to its captivating sound is hybrid design, which combines tube and solid state circuitry, but that's just one of its high end features. The sum total of those technical attributes is a dedicated headphone amp that will create an emotional bond between you and the music you play through it.
McIntosh MHA150 Headphone Amp: $4,500
Way back in 1949, Audio Engineering magazine, the forerunner to Audio, introduced America to the first McIntosh product, an amplifier "of unusual capabilities, incorporating a completely new design." McIntosh, of course, has since become an unstoppable force in high fidelity amplification, and now that headphones are so popular, its engineers have applied their expertise to dedicated headphone amps. The MHA150, the newest of these, is a spectacular component with the same feature set and performance standards as the vaunted MHA100, which preceded it, plus a new onboard D-to-A converter that supports both DSD and DXD. Proprietary McIntosh technologies include Autoformer, which is used in the company's large mono and stereo amplifiers and here provides impedance ranges that will make every headphone you're likely to use perform at its best. McIntosh's MCT input, also incorporated, offers a secure DSD connection for playback of high-definition SACDs. For linking digital devices, both an optical and coaxial input are included with the MCT450's USB and MCT inputs; there are also two analog inputs. The McIntosh Headphone Crossfeed Director, easily disabled and enabled, adds realistic dimensionality while patented McIntosh Power Guard technology prevents clipping that could damage headphones. In addition, users can tailor low-frequency reproduction to taste with a 5-step bass-boost control. As powerful as it is versatile, the MHA150 will easily drive a pair of desktop or bookshelf speakers​ via its 50-watt stereo speaker outputs.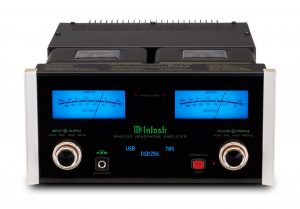 MOON Neo Headphone Amps By Simaudio: From $1,500
Excellence across the board, a Simaudio imperative for three and a half decades, has resulted in the prodigious performance and operational simplicity of these MOON Neo headphone amplifers. The 230HA is a headphone amp, DAC and line stage preamp combined in a stylish package. Based on its heavyweight sibling, the 430HA (described below), it features an inboard DSD 256/32-bit PCM capable digital-to-analog converter. It's compatible with digital sources ranging from smartphones, tablets and computers to satellite TV receivers and Blu-Ray players, and it delivers the kind of fidelity audiophiles demand of their principal music systems. The 430HA is a Neo-series model that incorporates advancements pioneered in more expensive MOON Evolution components. It's packed with state-of-the-art technologies that include an output stage with discrete transconductance circuit topology, selectable gain setting, an oversized power supply, and a defeatable analog crossfeed circuit that optimizes the spatial aspects of music heard through headphones while minimizing listening fatigue. It's available with or without D/A converter, and Lyric customers who choose that $800 option will get a factory-installed DAC that supports DSD256 and 32-bit PCM while providing compatibility with just about any digital source from computers to Blu-ray players and satellite TV receivers. Hand crafted in Canada, both the 230HA and 430HA are covered by Simaudio's 10-year warranty.
NAD D 1050 Headphone Amp: $500
NAD (an acronym for New Acoustic Dimension) was founded by a group of audio-industry veterans in 1972, when manufacturers were stuffing their components with superfluous features that fattened profits. These iconoclastic, music-loving innovators knew such products blunted the point of high fidelity, and they went on to design new, slimmed-down components that emphasized performance, value, and simplicity. The NAD D 1050 USB DAC, which reflects that approach to hi-fi design, combines a fine-sounding D/A converter section with excellent headphone amplification circuitry, and the remote that comes with it makes the unit easy to operate from your favorite listening position. The D 1050 has digital inputs for a variety of sources as well as a special USB input — its asynchronous operation mode uses a built-in high precision clock to control the output of a connected USB device and minimize jitter. The D 1050 supports USB 2.0, allowing 192 kHz signal transmission, and it optimally employs its top-grade parts so as to realize their sonic promise. NAD even engaged David Farrage, a cutting-edge industrial designer whose client list includes Movado and Lamborghini, to style this sleek component. Position it vertically or horizontally to suit your needs.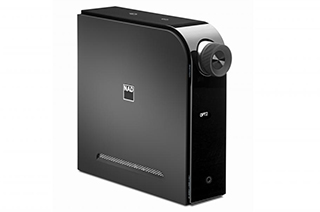 FREQUENTLY ASKED QUESTIONS