Our Uniqueness Benefits You
Lyric Serves Customers, Not Stockholders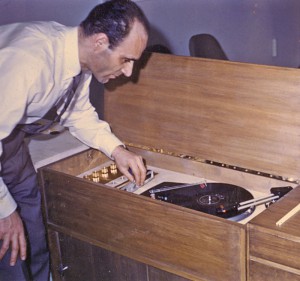 Always independently owned, Lyric is now an oasis in a land of retailing mammoths staffed by employees who lack the knowledge, experience and customer commitment that has defined us for more than half a century.
Our clients are an extended family, and we continue to offer old and new patrons alike — customers from around the U.S., Europe, Asia and South America — the most informed advice and the highest degree of service.
Our distinctive personality was shaped by Michael Kay, who owned Lyric for 45 years. Mike earned an electronic engineering degree in his native Greece before emigrating to America and, in 1959, taking over a small, second-story shop that he turned into a wellspring of high fidelity equipment.
Lyric designed and installed some of the first remote-controlled custom home entertainment installations, and when high end audio became a force in the 1960s and '70s, Mike helped spearhead the movement. Gifted equipment designers brought their prototypes to Lyric for evaluation. Devout music listeners from near and far made pilgrimages to Lyric to hear the market's newest cutting-edge components.
In 2004, Mike Kay, by then in his early eighties and renowned among audiophiles, sold Lyric. Happily, that meant continuity rather than change, since the buyers were his two key employees, Leonard Bellezza, a Lyric fixture for a quarter century, and Dan Mondoro, a 20-year Lyric veteran.
Dan retired at the close of 2017, leaving Lenny at the helm, still totally committed, still moving Lyric steadily ahead.