Our Uniqueness Benefits You
Lyric Has Always Served Customers Rather Than Stockholders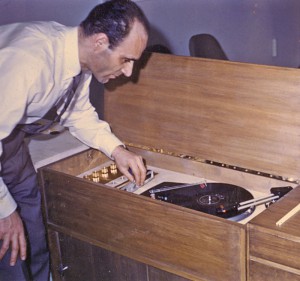 Lyric, always independently owned, is today an oasis in a nation of super-sized stores whose employees lack the knowledge and customer commitment that forms the core of our tradition.
Our clients have for decades constituted an extended family, and we continue to offer new and old patrons alike — people from around the U.S., Europe, Asia and South America — the most informed advice and the highest degree of service.
Our distinct personality stems from the philosophy of Mike Kay, who owned Lyric for 45 years. Mike earned an electronic engineering degree in his native Greece before emigrating to America, taking over a small, second-story shop in 1959, and developing it for 45 years.
Lyric created some of the first remote-controlled custom audio installations, and as high end audio materialized in the 1960s and '70s, we spearheaded the movement. Soon, high end equipment designers were bringing in prototypes for evaluation, and serious music listeners were returning regularly to hear the newest cutting-edge components.
In 2004, Mike Kay, by then in his early eighties and renowned among audiophiles, sold Lyric. Happily, that meant continuity rather than change, since the buyers were his two key employees, Leonard Bellezza, who had already logged 27 years with the company, and Dan Mondoro, a 20-year Lyric veteran.
Together, in the glow of their mentor's memory, Lenny and Dan continue to move Lyric ahead.