Headphones By Grado   $89 – $1,695
Grado is the great American headphone brand, the product of a firm started by Audio Hall of Famer Joe Grado, and one that remains family-owned after a half century. Every product from Grado Labs embodies painstaking attention to design detail and is meticulously built in accordance with time-honored manufacturing methods. Lyric's Grado offerings include the following models: the Inner Ear IGI at $89; the SR80i — a perennial best-seller — at $99 (shown below at left); the SR125i and SR325is at $150 and $295 respectively; and Professional Series models, including the $595 PS500 (at right below) and the $1,695 PS1000.
Bowers & Wilkins, Focal And Sennheiser Headphones   $329 – $499
The Bowers & Wilkins P7 is the firm's top headphone model and fits around — not just over — your ears to isolate you from ambient noise. It delivers the natural, detailed sound that has made B&W a leading brand among serious music listeners around the globe and, though built for listening on-the-go, employs drivers designed to resemble those used in loudspeakers; they move with precision and deliver exacting sonic reproduction. The P7, which you can own for just $399, also has a cable that connects easily to any mobile device. Don't miss auditioning Focal's Spirit Professional at Lyric. Shown below, it's a studio-quality headphone with an over-the-ear design that will enhance your listening experience while shutting out background distractions. Thanks to the acclaimed driver technology of France's largest speaker company, it outperforms its $349 price with no effort whatsoever. When you visit Lyric, be sure to include units from Sennheiser, the noted German manufacturer, in your personal headphone-to-headphone comparison as well. Our Sennheiser selections include both the $329 RS 180, a wireless model that sounds as good as its wired siblings, and the stunningly transparent HD 650, which sells for $499.
NAD D 1050 DAC/Headphone Amp   $499
To make the most of digital music sources, you need a quality digital-to-analog converter. Likewise, it takes a dedicated headphone amplifier to bring out all a headphone has to offer. You get the best of both worlds with the NAD D 1050 USB DAC, which combines an excellent D/A converter with an exemplary headphone amp. This fine unit, included in NAD's recently unveiled Classic Series, has digital inputs for many different sources as well as a very special USB input — its asynchronous operation mode uses the built-in high precision clock to control the output of the connected USB device for lowest possible jitter. The 1050 supports USB 2.0, allowing 192 kHz signal transmission, and thanks to NAD's long experience with both analog and digital circuits, top-grade parts are optimally employed to achieve their sonic promise. (Here's just one example for technically oriented listeners: ultra-short impedance-controlled signal paths are enabled by multi-layer circuit boards and micro-miniaturized surface mount components that are installed with lead-free, high-silver-content solder.) Its sleek look was created by a cutting edge industrial designer, David Farrage, whose client list includes Movado and Lamborghini. Position the D 1050 vertically or horizontally according to your needs.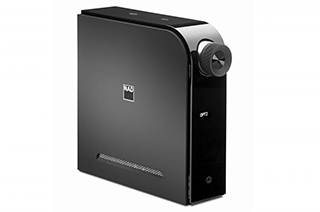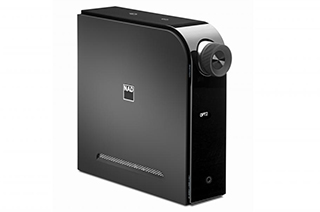 Rega RP1 Turntable   $445
Four decades after Rega Research introduced its first model, turntable sales at the heralded English firm are better than ever. That's not just because the turntable has refused to die; it's also due to the fact that Rega continues to focus on its turntables with dedicated intensity and the same minimalist philosophy that has led legions of budget-minded audiophiles to its door. The RP1 is Rega's newest entry level turntable, awarded five stars and named best-in-class by the eminent British publication, What Hi-FI?, which said that "it's no surprise to see the company delivering such an excellent budget product. At this level it's all about simple, effective engineering: something Rega understands." The RP1's modest price includes a tonearm, an excellent moving magnet cartridge, and even a dust cover. Set the unit up yourself, or leave that to our in-house turntable guru, Bob Herman, who has been doing it for decades. After that, What Hi-Fi? advises, "just keep it away from the speakers and make sure the supporting surface is rigid and all will be fine." Fine indeed, we say. Very fine indeed.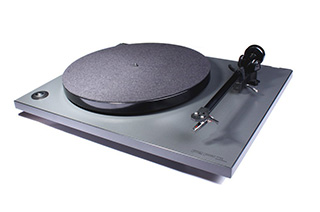 NAD PP 4 USB Digital Phono/USB Preamp   $199
The PP4, which provides settings for both moving magnet and moving coil cartridges, lets you transfer your vinyl collection to computer with ease — and with the sonic excellence that NAD has always provided. VinylStudio Lite software for ripping LPs and burning audio CDs is included, and there's a line input for cassette-tape-to-computer transfer. The PP 4 not only works in concert with your existing vinyl playback system to provide audiophile-quality ripping, but it easily adds hi-fi phono capability to amplifiers and receivers that either eliminate the phono input altogether or include inferior phono circuitry. Its USB interface, shielded USB cable and recording level control all combine to reduce noise while improving analogue-to-digital conversion, and its auto-power-down feature saves energy by automatically switching the PP 4 off when it's not in use. NAD has even included an especially efficient power supply that reduces energy consumption.
Hunt EDA Carbon Fiber Record Cleaning Brush   $30
For daily dry record cleaning, nothing beats the Hunt EDA brush. It employs more than a million anti-static carbon fibers, which are configured in two rows, and a static grounding pad between them. The pad supports the minuscule fibers, keeping them erect and assuring that they reach deep into the grooves of your records to extract trapped dust (unlike so many other brushes, which merely wipe groove surfaces). This standout product is a cinch to use and does its work without effort on your part; there's never a need to press down on the surface of an irreplaceable record. It comes with its own support stand, which doubles as a tool for cleaning the brush after use. This is an important tool for vinyl lovers — and an extraordinary value.
VPI HW-16.5 Record Cleaning Machine   $650
Vinyl expert Harry Weisfeld's HW-16.5, which has been in production for three decades, is a benchmark component. It incorporates a high-torque, 18 RPM turntable motor that easily accomplishes the task of heavy scrubbing during extended cleaning sessions, and its 35-second-per-side cleaning cycle makes quick work of even the dirtiest records. A high-powered vacuum ensures deep cleaning, and the unit's vacuum pickup tube automatically adjusts to accommodate record thickness. Other HW-16.5 highlights include a corrosion-resistant, stainless steel fluid collection system, and a fully enclosed design that prevents splashing. Built the VPI way for a lifetime of use, the HW-16.5 is truly a professional grade product.
AudioEngine A5+ Computer Speakers   $399/pair
These little powerhouses are hugely popular, and with good reason. The A5+ is the standard setter in its price class, so affordable that first-time listeners are shocked by the quality of their sound. Moreover, they work their magic with all program sources: desktop computers; iDevices; TV monitors; and traditional source components. Highlights include custom Kevlar woofers and silk dome tweeters, which are installed in hand-built cabinets with dual audio inputs. An enhanced thermal management system is also part of the package, and so is a remote control. You can charge your iDevice via a built-in USB power port, and can easily connect a subwoofer if and when you care to. The A5+ connects via your computer's headphone jack, and you can link it to a USB DAC to achieve even more awesome sound quality. The mighty little A5+ is compatible with any computer, and it doesn't require software installation or settings manipulation.
Bowers & Wilkins A5 And A7 Wireless Music Systems   $499, $799
Both the A5 and A7 give you AirPlay compatibility, permitting you to stream music via wi-fi or ethernet from an iPhone, iPad or a computer running iTunes. The A5 is the more compact unit, and it employs two 25-millimeter Nautilus tube aluminum tweeters along with a pair of 10-centimeter mid/low range drivers; they're powered by 20 watts of onboard amplification. For an even higher level of performance, you can opt for the A7 and get the 15-centimeter Kevlar-reinforced subwoofer that complements the unit's four stereo drivers. The A7 also boasts dedicated Class D amplifiers that deliver 25 watts to its tweeters and midrange, plus 50 watts to the subwoofer. Its D/A converter can upsample to 24-bits/96kHz, and setup is simple with a free app available via download from Apple.
McIntosh McAire AirPlay Music System   Call For Price
The McIntosh McAire will make your entire digital music library leap to life. This awesome integrated audio system has built-in AirPlay for remote-controlled, wirelessly-streamed music from Mac- or PC-based iTunes libraries as well as from iPads, iPhones or iPod touch units. With a USB cable, iPod classic models and select iPod nanos can also be connected. While McAire's single-chassis design saves space, the music it produces will fill an entire room, thanks to a pair of 4-inch woofers, two 2-inch midranges and two ¾-inch tweeters. USB docking is available for all-day playback and charging, and a remote control included with the unit can handle both song selection and volume. You can even link McAire to your TV monitor for vastly improved television sound. This unique integrated system is McIntosh through and through, entirely worthy of the blue meters that tell the world it was designed and built in Binghamton, New York, by America's first audiophile manufacturer, founded in 1949.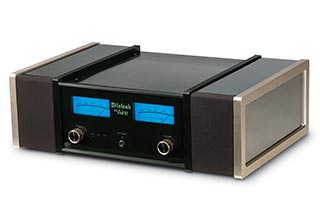 NAD D 3020 Hybrid Digital Amplifier   $499
Named for a classic amp that introduced countless listeners to the joy of high fidelity, the D 3020 was initially meant to be an NAD 40th anniversary product. Instead, development went on considerably longer, resulting in whatStereophile magazine's Stephen Mejias, in a recent cover story, called "a decidedly modern integrated amplifier for the modern listener." Not only does this new product deliver irresistible sound quality at an entry-level price, but it has wireless Bluetooth capability that lets users stream music from smartphones, tablets and laptops while also supporting Bluetooth aptX, the increasingly popular codec that elevates sound quality while lowering power consumption. Coaxial and optical inputs allow you to connect a variety of wired digital sources — including CD and DVD disc players, set top boxes such as the AppleTV or satellite and cable receivers — while analog inputs accommodate iPods and such components as FM tuners. The USB input's asynchronous mode assures lowest possible jitter (computer audio outputs are notorious for the timing errors that fall into this category), and the amplifier accommodates 24 bit/96 kHz music files. Last but by no means least, you get an elegant, designer-styled, small-footprint enclosure similar to that of the D 1050, which is also featured on this list of essentials.
Mass Fidelity Relay   $249
Mass Fidelity is a new company created for the new era of streaming audio. It comprises a community of audiophiles, designers and engineers united by a passion for music and a common mission: propagating the experience of high fidelity, which has in large part been lost in a landscape where squashed musical files are played through no-fi earbuds or headphones that turn bass notes into booms. We're genuinely impressed with the Relay, a high performance wireless receiver that links your Bluetooth iDevices to your existing stereo system. Connection is quick and effortless; in mere seconds, you'll be settled in, smartphone in hand, embraced by music as it really should be heard. The Relay will add verve to your social life as well. It incorporates Party Pairing technology, which permits your guests to pair their own smartphones with your audio system, so all present can enjoy the music from their favorite stored files and streaming services.
Nordost Blue Heaven Power Cord   $199
Although they carry the energy any given component needs to deliver and manage a constant flow of information with consistency and total coherence, power cords are too often overlooked. Substitute a Nordost power cord for the OEM attachment that came with one of your components, and you'll immediately hear the difference. One key reason for that transformation is the high-speed, low-loss, micro mono-filament that Nordost employs. Another is the insulation: fluorinated ethylene propylene (FEP), a flexible and especially durable material that yields peak performance over a long lifetime. Most cables color sound, but Nordost has worked long and hard to create products that are decidedly neutral and eminently transparent, true audiophile products that have won international acclaim for increased dynamic capability and a lowered noise floor. When you add a Nordost power cord, be ready to feel music's force, and be touched by low-level nuances that once seemed beyond your system's reach.