All You Need For Best Personal Listening
This webpage spotlights some of the finest personal listening products available anywhere, including superb headphones that start at just $79 and headphone amps that elevate music resolution to the highest levels. Brands in each category appear in alphabetical order, and clicking on a brand name in the link list below will take you directly to it. Or scroll for info on all our excellent brands as well as answers to common headphone questions. Then visit either Lyric store. Both have dedicated headphone listening areas, where you can try on various models for comfort and sample their sound with your own music sources as well as ours. Lyric's experts look forward to helping you.
Featured Headphone Brands
Audeze  Bowers & Wilkins  Focal  Grado  Sennheiser
Featured Headphone Amplifiers
McIntosh  MOON by Simaudio  NAD
Audeze Headphones   From $995
Audeze planar magnetic headphones don't use traditional cone technology. Instead, they employ ultra-lightweight, thin-film diaphragms with printed circuits spread across their surfaces. When audio signals energize these circuits, electromagnetic force moves the diaphragms, generating sound. And what glorious sound it is! You'll immediately hear the benefits that planar magnetic technology confers on listeners, including exceptionally rapid response time and a large sonic picture that's more common to speakers than to headphones. The frequency band is wide, distortion is low and, because Audeze transducers have fewer moving parts than conventional headphone drivers, along with a circuit pattern that efficiently dissipates heat, you can expect these units to perform optimally over a very long lifetime. Add the fact that Audeze headphones present a load that's especially easy for amplifiers to drive, and you have a winning combination of sonic attributes. No wonder Stereophile magazine's longtime editor, John Atkinson, concluded a review of one Audeze model we offer by stating that, "for listening at home, the beautifully finished and equally beautiful-sounding Audeze LCD-Xes have seduced me."
Q: Where can I use my headphones?
A: Everywhere you listen. Headphones do much more than let people listen on the move. They also make for happy homes when one partner wants to sleep or watch TV while the other enjoys music. Many serious listeners actually prefer headphones to speakers, since good headphones reproduce music with fidelity that only speakers costing much more can equal. The best headphones deliver musical resolution and detail nothing short of astounding.
Bowers & Wilkins Headphones   From $199
Bowers & Wilkins, known to audiophiles as B&W, is either the number one or number two high end speaker brand in most of the many nations where it's sold. User surveys have revealed that B&W owners are especially serious about recorded music, and they also show that nearly all would buy the brand again; an overwhelming 98% said they were satisfied with their purchases. B&W also ranks high on the list of recording-studio speakers, and they've long been fixtures at London's Abbey Road studios, where groups ranging from The Beatles to U2 have used them while making albums. B&Ws are also employed in surround-sound configuration at the famed Skywalker Sound studios in California, where some of cinema's most memorable sound tracks have been created. The vaunted technology that has long underpinned all speakers from this firm, which was the first to use computers for loudspeaker design and analysis, also enhances its headphones. We especially like the P7, the firm's top headphone model, which fits around the ears to shut out ambient noise and delivers natural, detailed sound through drivers that move with rare precision. Audition this superb headphone, and you'll instantly agree that its sound quality vastly transcends its $399 price tag.
Q: I take my headphones everywhere. Should I look only at the lightest-weight models?
A: Not necessarily, since light weight doesn't always equal comfort. Trying on headphones is an important step in the purchase decision, and you can do that in a dedicated headphone listening area at either Lyric store.
Focal Headphones   From $249
Because the twin hearts of a headphone are its drivers, it's no surprise that Focal headphones are such brilliant performers. Some three and a half decades ago, Focal was founded by a French engineer named Jacques Mahul, who at that time developed the first of the drive units that have since been incorporated in speakers wearing numerous brand names. Once Mahul's drivers had made Focal one of the high end speaker industry's most important OEM drive-unit suppliers, he extended his talent to a line of Focal-branded speakers, generations of which have since garnered the admiration of audiophiles in France and abroad. Headphones were a logical next step, and taking that step was as natural as taking a breath for an engineer with Mahul's expertise and audiophile orientation. Lyric is proud to offer the Focal Spirit Classic along with its sibling model, the Spirit Professional. Both are circumaural, closed back designs, but the $399 Spirit Classic is intended for at-home listening in relatively quiet environments while the $349 Spirit Professional is a recording-studio-quality model that more thoroughly isolates users from background distractions. Both these Focal headphone models are ranking contenders in the audiophile category, and both will go the distance no matter how long you choose to listen through them.
Q: What's the difference between on-ear and over-the ear headphones, and what can open-back models do that closed-back models can't?
A: On-ear (supra-aural) headphones rest on your ear while over-the-ear (circumaural) models enclose it. If you plan to use your headphones in noisy environments, be sure to audition models in the over-the-ear category, because they isolate wearers from ambient sounds better than on-ear headphones do. Most headphones are closed-back units and have solid, shell-like earpieces. Open-back models have openings on their outer surfaces (note the slots on the Audeze headphones pictured at the top of this webpage). They allow sound to move both inward and outward, and they appeal to listeners who enjoy a more spacious sound. Be aware, though, that open-back headphones provide less isolation from noisy environments than closed-back units do while also projecting more sound to those around the listener.
Grado Headphones   From $79
The Grado name has appeared on generations of great hi-fi phono cartridges as well as on headphones. The firm was founded in 1953 by Joseph Grado, one of a core group of hi-fi pioneers and a gifted amateur opera singer whose critical ear and enduring love of music always infused his products. Even after all these years, Grado Labs remains family-owned, and it's still located in the New York City Borough of Brooklyn. The company recently launched a new generation of headphones that retain their familiar retro styling but are different from their predecessors in every other respect; for one thing, the e-Series models have been revised for improved dynamics and fidelity. In fact, Grado designers focused on details others would surely have overlooked, going so far as to change the specified glue (for increased strength and lower mass) and the method for curing the select mahogany that Grado headphones feature (the new process further reduces a sonic coloration). Consider, also, these refinements: proprietary SpaceBlack polycarbonate, engineered to absorb excess energy and reduce secondary impulses for a clearer tone; rhodium on connectors to prevent corrosion and unwanted musical graininess; more refined driver geometry to permit the tracking of musical frequencies with increased precision; headphone housing refinements that prevent stray resonance from interacting with drivers, thereby protecting purity of reproduction; and a more finely-tuned magnetic field for symmetry over the full range of voice-coil motion. Lyric offers a wide selection of Grados, from an excellent in-ear model, the iGi, and the perennially popular open-back SR80, now in its e-Series iteration, to studio-quality Professional Series models that include the PS500e and the PS1000e.
Q: Can wireless headphones reproduce true high resolution sound?
A: The best definitely can. Visit Lyric, audition the wireless Sennheisers, and you're sure to agree.
Sennheiser Headphones   From $329
Sennheiser is a highly distinguished German audio company that has flourished since it was founded in 1945 by Dr. Fritz Sennheiser, who ran it for decades before passing the torch to his son, Jörg. Today, Prof. Jörg Sennheiser is the supervisory board chairman of a corporation that employs more than 2,500 people and operates factories in the US and Ireland as well as in its home country. While Sennheiser produces a broad range of audio-related products ranging from microphones to assistive listening devices, it has continued to push the audiophile headphone envelope. Not only has it consistently produced some of the world's finest wired headphones — the stunningly transparent HD 650 is a current example — but it's the brightest star in the wireless headphone firmament. CNet's resident audiophile, Steve Guttenberg, has written that the wireless RS 180 headphones, which employ infra-red technology and are designed for home listening, "sound great and are remarkably comfortable to wear for hours at a time." Steve is quick to note that this headphone's wireless advantage comes without a price premium. "The Sennheiser RS 180's sound is competitive with similarly priced wired headphones, which should make [it] irresistible to audiophiles seeking to cut the cord," he comments.
Q: What are headphone amplifiers and how important are they?
A: The best headphone amps combine high-quality amplifier sections with equally excellent digital audio converters (DACs). The amplifier section moves a headphone's drivers with a high degree of accuracy, while the DAC converts your digital music files and music streams to analog. When you hear just how much life one of our recommended headphone amps adds to your favorite music, you'll agree that a dedicated headphone amplifier is a must for true hi-rez headphone listening.
McIntosh MHA100 Headphone Amplifier   $4,500
In June 1949, Audio Engineering magazine introduced readers to a new amplifier "of unusual capabilities, incorporating a completely new design." McIntosh, the fledgling firm that built it, was destined to become a major force in an industry that made the term high fidelity a household word. More than six decades and some three dozen patents later, the McIntosh factory in Binghamton, NY, the town the company has called home since the 1950s, continues to turn out extraordinary products. All are potent performers, and their longevity is unsurpassed in the industry. The MHA100, which recently joined this extensive family of products, is a leap forward in personal listening, a unique component that combines numerous McIntosh advancements. These include a new iteration of the firm's tried-and-true Autoformer; it provides three headphone impedance ranges (8-40, 40-150 and 150-600 ohms) to optimize performance of headphones ranging from ear buds to professional studio models. The MHA100 also features a Headphone Crossfeed Director (HXD), which allows headphones to deliver multi-dimensional imaging and a sense of space equal to that created by high end speakers. With four digital inputs, it can decode digital music files at up to 32 bits/192kHz, and it also provides two analog inputs. While its relatively compact size permits easy placement, it will nevertheless feed 50 watts of power to a pair of speakers when you choose to listen through them — that power rating is conservative, as is always the case with McIntosh amps. The company's famed Power Guard system is employed to prevent clipping, and a 5-step bass boost control allows custom low-frequency tailoring. The MHA 100's polished stainless steel chassis is classically McIntosh and incorporates the firm's instantly-recognizable blue meters along with its distinctive glass front panel.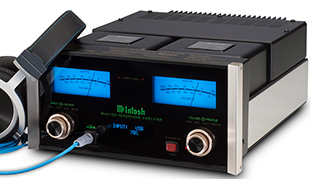 MOON Neo 430HA Headphone Amplifier by Simaudio   From $3,500
Excellence across the board, a Simaudio imperative for three decades, has resulted in the prodigious performance and operational simplicity that characterize all MOON-branded components. Advanced fabrication techniques are routine at Simaudio's company-owned factory — the Canadian facility not only assembles products but also fabricates some of their critical parts — and so are the rigorous tests that each MOON model undergoes before being shipped. The 430HA is a Neo-series model that incorporates advancements pioneered in more expensive Evolution-series MOON components. It's packed with state-of-the-art technologies that include an output stage with discrete transconductance circuit topology, selectable gain setting, an oversized power supply, and a defeatable analog crossfeed circuit that optimizes the spatial aspects of music heard through headphones while minimizing listening fatigue. If you choose the option, Simaudio will factory-equip your 430HA with a built-in Digital-to-Analog converter that supports DSD256 and 32-bit PCM while providing compatibity with just about any digital source from computers to Blu-ray players and satellite TV receivers. It's a truly outstanding inboard DAC, and it will reproduce musical material with fidelity matching that of far more expensive D/A converters, flawlessly serving for years to come in even the finest high end music systems.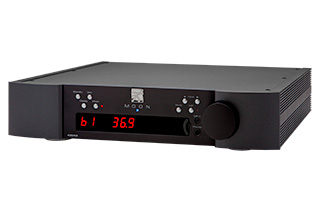 NAD D 1050 DAC/Headphone Amplifier   $500
NAD (an acronym for New Acoustic Dimension) was founded by a group of audio-industry veterans in 1972, at a time when manufacturers had begun stuffing their components with superfluous features in order to fatten profit margins. These iconoclastic, music-loving innovators knew that such bloated products blunted the point of high fidelity, and they went on to design new, uncluttered components that emphasized three core qualities: performance, value, and simplicity. The NAD D 1050 USB DAC reflects that sensible approach to hi-fi design. It incorporates a fine-sounding D/A converter section as well as excellent headphone amplification circuitry, and the remote that comes with it makes the unit easy to operate from your favorite listening position. The D 1050 has digital inputs for a variety of sources as well as a special USB input — its asynchronous operation mode uses the built-in high precision clock to control the output of a connected USB device and yield lowest possible jitter. The D 1050 supports USB 2.0, allowing 192 kHz signal transmission, and it optimally employs its top-grade parts so as to realize their sonic promise. Moreover, NAD engaged a cutting-edge industrial designer to shape this sleek component, which you can position vertically or horizontally according to your needs. His name is David Farrage, and his client list includes Movado and Lamborghini.