This Is Vinyl's Golden Era
Hear Today's Super-Fi LPs Outdo The Originals — On An Affordable Rega Turntable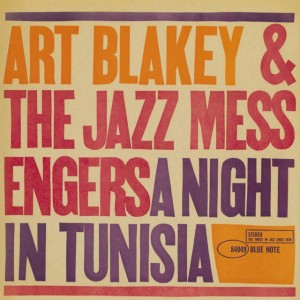 In an era increasingly associated with digital devices, the renaissance of analogue recordings and turntables made to play them has amazed many observers. While some attribute the phenomenon to nostalgia, we know it occurred because music on vinyl, always marvelous, sounds better than ever.
Many of the industry's classic albums have been remastered and pressed on heavy, high grade vinyl, which is vastly superior to the commercial grade. These new records sound substantially better than the originals — provided, that is, you play them on a high quality turntable.
Though Lyric was one of the first American audio stores to offer CD players, we never stopped recommending turntables to our audiophile clients. These days, given the proliferation of remastered, super-fi LPs, we once again see the turntable as essential to every home music system.
Whether you're a first-time buyer, a serious listener on a budget, or a veteran audiophile in search of a top-echelon model, we have your turntable.
The Rega Planar 3's Long Reign
At the entry level, it's no contest. For nearly four decades, audio writers and hi-fi connoisseurs alike have been endorsing the Rega Planar 3, which has racked up more than enough votes to make it the most highly recommended value-priced audiophile turntable ever.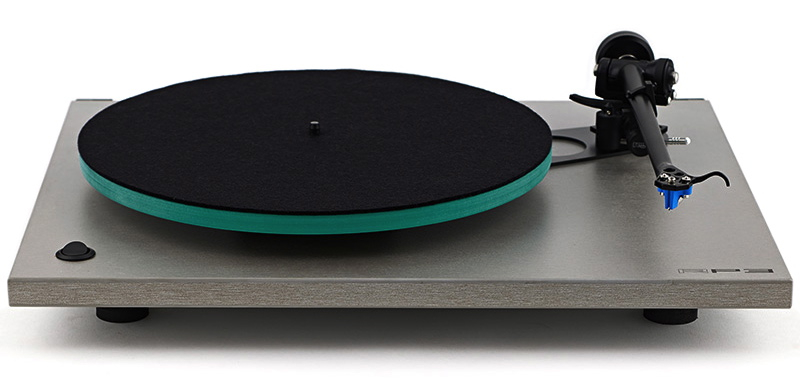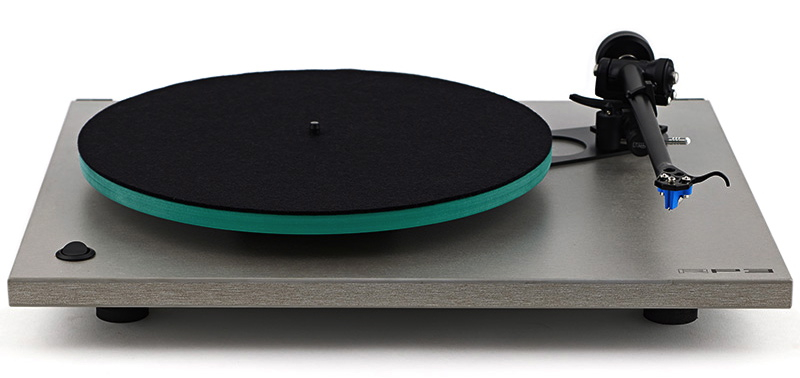 Rega is an English specialty firm that was founded in 1973. It introduced the original Planar 3 in 1977. By 1980, it was filling orders from a dozen countries and had a waiting list.
Over the decades, even as the recording industry's barons and their mid-fi media scribes insisted that LPs and turntables were as dead as Britain's Tudor monarchs, Rega's plucky yeomen continued work on the 3, altering, refining and enhancing. Their labors have resulted in generations of exemplary turntables and countless accolades from the audiophile press — including four successive Product of the Year citations bestowed on the Planar 3 by England's What Hi-Fi magazine between 2011 and 2014.
An honor from a very different source is also worth mentioning: Rega was recently granted a Queen's Award for Enterprise in International Trade, the UK's highest commendation for businesses.
Continuous improvements to the Planar 3 have resulted in a turntable that not only provides higher performance than any other in its three-figure price tier but outperforms many models with price tags well into four-figure territory.
Functionality Without Flounce
The latest iteration of this fabled unit is known as the RP3, and its deceptive visual simplicity epitomizes Rega's no-frills philosophy. The elegant, minimalist plinth that first attracts the viewer's eye is actually a technically sophisticated structure combining a particulate core that's light in weight with by a rigid, phenolic resin skin.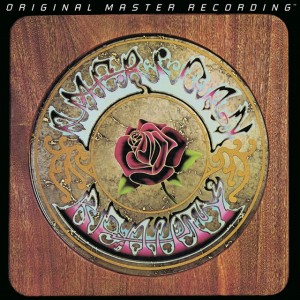 The platform's low mass means it absorbs less low frequency energy, and that in turn translates to enhanced sonic focus and more musical detail. The rigidity of the plinth reduces distortion-causing resonance and thereby contributes additional fidelity to the music that this fine turntable reproduces.
To make the RP3's base even more rigid than that of predecessor models, Rega chose to position a phenolic resin double brace between the tonearm mounting and the main hub bearing, the very spot where increased stiffness does the most good. The result is a stressed-beam arrangement that boasts exceptional resistance to vibration.
Other RP3 components that serve musical fidelity include its precision, low-friction bearing and the famous Rega float glass platter. The firm painstakingly fabricates these platters by floating molten glass over tin. The result is a uniform, flat surface that keeps the grooves of records optimally positioned vis-a-vis the stylus during playback.
A low-vibration, low-noise, 24-volt motor is another important feature of the RP3. Each individual motor incorporates an anti-vibration circuit that has been hand-tuned to it.
Consistent Fulfillment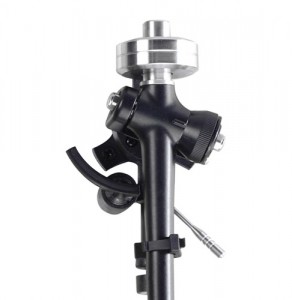 Rega's RP3 provides enviable speed consistency. If you think all turntables run at a constant speed, you're probably too young to remember just how many of those dating to the pre-CD era didn't. Many new turntables also fail the speed stability test.
As a result, music played on them lacks the steady momentum that the best live performances embody. Instead, the music wavers in a rhythmically indecisive manner, never approaching fulfillment, never able to satisfy discerning listeners. The RP3's sound, in contrast, is steady, rock solid, never faltering.
The RP3 comes with Rega's own, hand-assembled RB303 tonearm, a CAD/CAM-age product with the genes of the firm's RB300, the now legendary Rega arm that was unveiled in 1983. Constructing the RB300 required a new process for casting tubular aluminum, and the method that eventually made it a reality was impressive enough to earn an international award from a metals industry publication.
Lyric offers a variety of cartridges that complement the Rega RP3, and our sales associates will be glad to suggest the one that best meets your needs.
Rega's RP6 Upgrade Model
For turntable buyers who want to go a step higher than the RP3, we heartily recommend the Rega RP6. The key difference between the two units is that the RP6 comes with Rega's TT-PSU power supply, which has its own separate housing and adds a convenience feature many users will find highly important, electronic speed switching. Rather than remove the turntable's platter and manually change its belt position, users need only touch a button on the power supply's faceplate to switch between 33-1/3 and 45 RPM.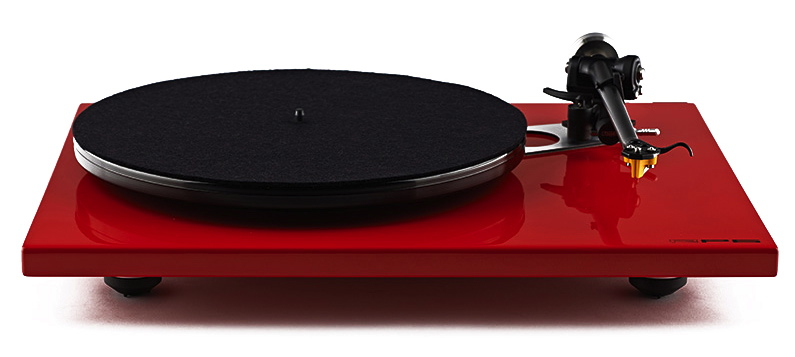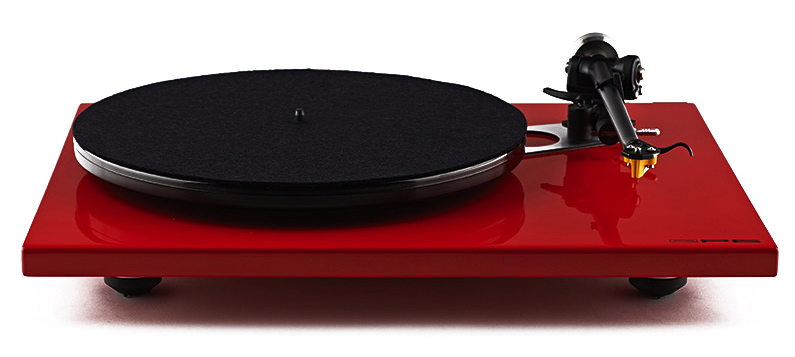 Thanks to its sophisticated circuitry, the TT-PSU also lowers turntable motor vibration while further enhancing speed stability.
The RP6 employs a more technically sophisticated platter than its less expensive sibling model. It consists of two separate float glass platters that are bonded together. The secondary ring section rides beneath the main one, and the extra section adds mass to the structure's outer circumference, thereby increasing the platter's flywheel effect and further assuring stable, accurate speed.
Rega goes to far as to position an aluminum hub adaptor with a six point mounting system between the RP6's hub and the platter above it. This additional step means the surface that records rest on is as flat as possible,
The RP6 comes with Rega's RB303 tonearm, and we offer cartridges from select manufacturers to complement it along with free in-store cartridge installation.
OUR TURNTABLE EXPERT WILL SET UP YOUR UNIT FREE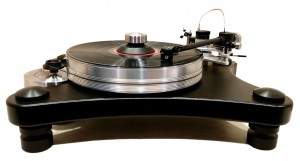 To be sure you get the best possible performance from your new turntable, we throw in free in-store setup.
When you buy a turntable and cartridge at Lyric, provided it can be done at the store, Bob Herman, our longtime analog guru, will personally install the cartridge and set the turntable up for precise performance.
Bob, who has decades of experience with analogue audio under his belt, may have readied more Regas for use than anyone in America, so he's the perfect person for the job. Feel free to call or visit him at at our Manhattan store for authoritative answers to questions about turntables, phono cartridges and other matters relating to vinyl playback.