Every McIntosh Component We Sell Includes Our Incomparable Expertise
We're America's oldest high end audio retailer and an asset for all buyers of components from America's oldest high end audio manufacturer. So check out the McIntosh gear described below, then stop by to begin an ongoing personal relationship with a genuine specialist. You'll take comfort in knowing every piece of equipment you buy from us includes the Lyric Advantage. Read more about that here.

Click on any image below to expand it. Click these links to learn about McIntosh Benefits and The McIntosh Heritage.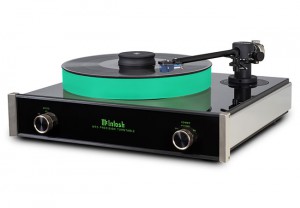 MT5 Turntable: The MT5 is so impressive that Rolling Stone magazine called it "the turntable of the gods." It's a complete record playing system, designed so that motor assembly, tonearm and cartridge work together to achieve top grade performance. The illuminated, magnetically suspended platter instantly telegraphs excellence while the housing's appearance provides the same classic look as related McIntosh gear. The MT5 even features a high output moving coil cartridge that's compatible with moving magnet inputs on linked components, and the guiding hand of McIntosh extends as far as setup, which is done at the factory to make certain such critical measurements as tracking force, anti-skate force, cartridge overhang, and arm height are just right. Naturally, you get a clear, form-fitting dust cover to protect the MT5's moving parts and help preserve your prized vinyl collection. And yes, this excellent turntable is compatible with any McIntosh stereo preamp.