Hi-Fi's First Audiophile Brand Means Thrilling Music For A Lifetime
McIntosh, hi-fi's oldest audiophile manufacturer, has produced a steady stream of superlative products for more than 65 years and continues the tradition with models such as those featured below. Read about their unique features, click on the images to expand them, then come hear thecomponents in our showrooms. You can also click these links to learn about Important McIntosh Benefits and The Rich McIntosh Heritage.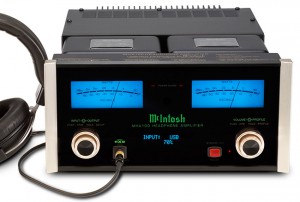 MHA100 Headphone Amplifier: A significant step forward in personal listening, the MHA100 combines a cornucopia of McIntosh advancements. One is a new iteration of the firm's tried-and-true Autoformer technology; it provides three headphone impedance ranges, 8-40, 40-150 and 150-600 ohms, to accommodate 'phones ranging from ear buds to professional studio models. The unit also features a Headphone Crossfeed Director (HXD), which allows headphones to deliver multi-dimensional imaging and a sense of space that music lovers could previously attain only with speakers. With four digital inputs, this outstanding amplifier can decode digital music files at up to 32 bits/192kHz, and it also gives you two analog inputs. Downsized for placement flexibility, the MHA100 is the most easily-positioned amp in the McIntosh line, yet it will feed 50 watts of power to a pair of speakers when you choose to listen through them instead of with headphones. (That power rating is, as is always the case with McIntosh amps, conservative.) The company's famed Power Guard system prevents clipping, and a 5-Step Bass Boost control allows individualized low-frequency tailoring. Naturally, the MHA100's polished stainless steel chassis is classically McIntosh, from the instantly-recognizable blue meters and glass front panel to the handsome, signature knobs and brushed aluminum end caps.